LITTLE MOONS
Little Moons
---
Challenge
Increase Little Moons' position on supermarket ice-cream shelves
Set up activations from May to July with a common theme inspired by the brand's fundamentals: fun, colourful, gourmand.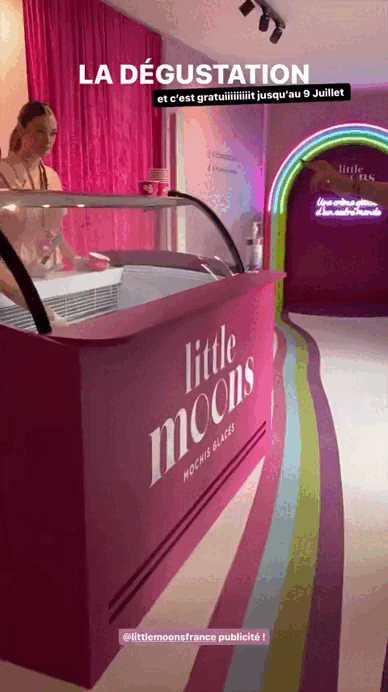 Plan
360° communication throughout the summer in Paris :
Branded tricycles in the Marais during June
Opening of an immersive popup of +200m2 opens in July
Sales at Hôtel Mahfouf throughout August
Amplify physical actions with a powerful, effective and long-term media plan throughout the summer via THE Influencer LENA SITUATION
WHY LENA SITUATION
Lena is the next-door girl who embodies good humor with authenticity and casualness. She balances perfectly between the world of luxury and mass-market brands. Her SMs generate figures that make her one of the most followed influencers in France.
LENA SITUATION in figures
INSTAGRAM 4,4M
Average views Reels: 2,93M
Average views Post : 1,64M
Average views Story : 595k
TIKTOK 3,1M
YOUTUBE 2,7M
LAST COLLABS
Adidas, Typology Paris, APM Monaco, Camaieu, Avène, Prada, Bumble, La Redoute, Balmain, Longchamp, Kenzo…….
Results
TRICYCLES :
4 published contents
Total impression SM : +4M
Total clics on the tag : +28k
+90k€ EMV
POP UP :
4 published contents
2-hour line-up at the pop-up
Total impression SM : +6M
Total clics on the tag : +45k
+120k€ EMV
HOTEL MAHFOUF :
8 published contents
70 000 visitors
43 000 LM sold
Total impression SM : +6M
+130k€ EMV