Impala Rollerskates – Influence Breakfast
Impala Rollerskates Influence breakfast
---
Issues
Strengthen the link between the brand and the influencers.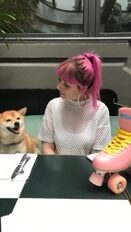 Action plan
Invitation of the n°1 youtuber in France (Natoo – 5M Youtube subscribers, 3,7M on Instagram) and of 2 instagrammers (@melococo– 55k subscribers & @iamlazykat– 51k subscribers).
Organization of a lunch.
Gift of a pair of rollerblades for each of them.
Results
23 social network follow-ups (posts and stories).
EAE : €25,426